Looking for a Rare 200" wide bed Hydraulic Press? We have 2 for sale and can be inspected in a power-on condition.
We are pleased to offer, subject to prior sale, the following DANLY & CLEARING large Bed stamping presses. These have full Cushions, front to rear Bolsters, PLC controls, and more.... all meeting OSHA safety requirements. Power on inspections arranged in Metro Detroit Michigan area. View all the spcifications on these 200+ inch wide bed production stamping presses below and call Tech Machinery Sales (586) 773-8822 to get additional photos and pricing..

900 to 1000 ton Used Straight-side large Bed Mechanical Presses for sale
Danly Model S4-1000 QDC 204x102 and Clearing Model F-4-900-QDC 200x100 bed

TONNAGE:

1000 ton DANLY press with press controls in working condition. Danly Model
S4-1000 QDC Bed Size 204" rl x 102" fb....stroke 36" shut ht. 55"
Cushions Rolling Bolster front to back PLC controls OHSA safety
guards , under power for inspection All press controls and OSHA approved safety equipment included. Paramount Industries can arrange de-rigging and transport to USA and Overseas locations...
Specifications on the Clearing Model F-4-900-QDC
Bed area 200" rl x 102" fb....stroke=40"....shut height = 58". Outfitted with hydraulic cushions, rolling bolster front to back and full PLC Controls. All OSHA approved Safety guards, railings and emergency shut-offs are in this packaged straight side stamping press. Arrange a "under power" onsite inspection on these 2 very rare straight Side mechanical presses in Detroit Michigan. Both have rare extra large 200+ inch beds with the tonnage to crank out large metal stampings for automotive, aerospace, trucking and other metal forming applications. (Cushions with Ross Air Flex Pneumatic System, Auto-lubrication System, Desch clutch/brake, and Allen Bradley PCL electrics included in the price)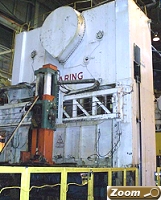 Clearing 900 to 1600 ton Straight-side wide bed metal stamping presses for sale.
Call Tech Machinery (586) 773-8822 for Pricing and complete specifications, photos and options on any used press shown here.
---
Unique opportunity to own 5 complete working automotive industry stamping press lines

A major automobile manufacturer has contracted with Techmachinery.com to liquidate all, or partial lots, of one of their local Detroit production plants. Power-on inspections now taking place for 10 major presslines of varying capacities, and all miscellaneous metal stamping equipment in this plant. This is a once in a lifetime opportunity to buy well maintained working metal stamping presses for pennies on a dollar invested by a big 3 auto manufacturer. Clearing, Bliss, Version, Danly stamping presses from 2000Ton to 400 ton capacities, with all OSHA inspected safety gear, controllers, conveyers and roll feeder equipment included. Click here to see all this automotive plant liquidation listings, photos and spec sheets.
---
Below you'll find some newly purchased presses available for immediate delivery.
1. Used Williams & White 1500 Ton 4 POST HYDRAULIC PRESS
2. 800mm Schmidt & Heinzman used SMC Machine -new in 1987
3. Finn & Fram 48" SMC machine with complete in-line mixer and other options.
4. Used- Erie 1500 and 600 ton Hydraulic compression molding presses
5. 1200 Ton Press - Battenfield Hydraulic Compression Molding 4 Post Press
6. Eaton -Leonard VB-75 CNC controlled Tube Bender
7. Used 1965 Cincinnatti 22Ft Press Brake model#12
Click on photos to see a larger view of these sample manufacturing machines. Our locator services include sourcing presses, plastic and PVC moulding machines, horizontal and verticle milling centers..... right into CNC machining equipment. We can arrange shipping and rigging worldwide.
It's a Buyer's Marketplace in the used plant production equipment marketplace in the USA. Tech Machinery Sales is your advocate for getting the lowest price on excess machinery due to bankrupcy or distressed sales of viable production equipment. The Global economy is being fueled by putting this production machinery back into use in USA growth areas and worldwide industrial cities.